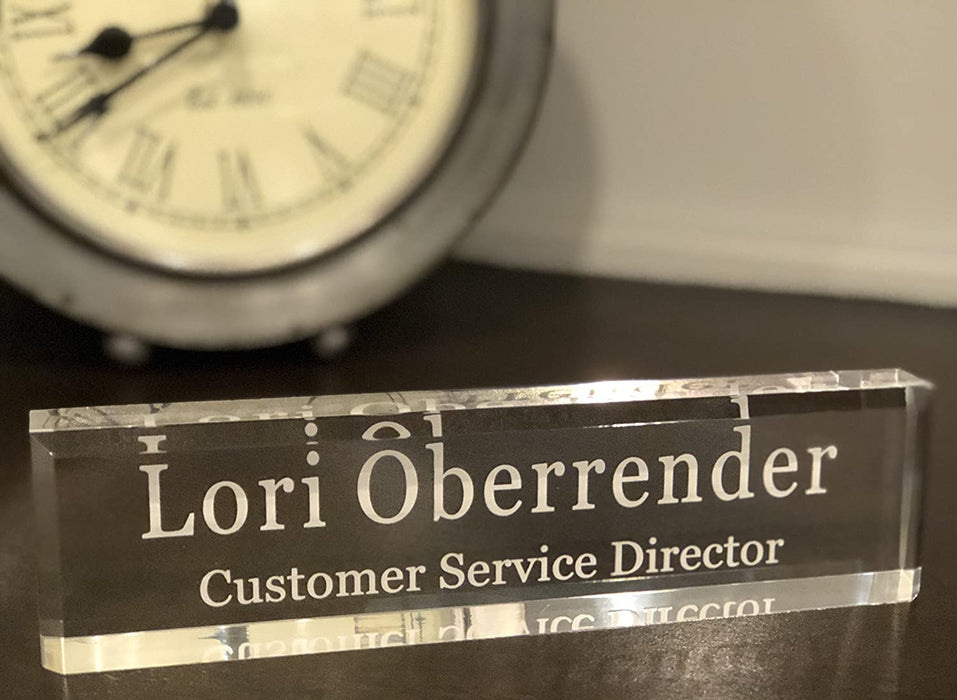 Solid Acrylic - 8" or 10"
Original price
$32.99
-
Original price
$34.99
Acrylic Personalized Desk Name Plate - 8" or 10" size available.
Elegant and timeless, this acrylic personalized desk name plate is the perfect gift for any desk or office. It's simplicity fits in any style or decor.

This acrylic desk plaque is reverse engraved for beautiful three dimensional appearance of text and graphics giving a gorgeous depth to the viewer.

Modern personalized desk name plate that compliments any decor.

Up to two lines of engraved text. Example: Line 1 - Ross Geller Line 2 - Professor of Paleontology

Satisfaction is 100% guaranteed by Griffco Supply - a 99%+ customer satisfaction rate on thousands of customer reviews.
That is the run down of this awesome personalized desk name plate. After we reverse engrave these acrylic blocks, we hand polish them with a scratch-free microfiber cloth. The result is stunning and surprising each and every time - an almost 3D look to the finished engraving as a result of the name and title being on the far side of 3/4" thick acrylic and viewing the text from the front or any angle for that matter. A true beauty. There is a reason we have trouble keeping this item in stock - it is unique and is the perfect addition to most any professional setting.
Whether you choose to purchase the 8" or 10" personalized acrylic desk plate, both size are 100% self standing. Place on a desktop or even on a shelf alongside your book collection in your study. From classic old world decor to rooms with a modern flare, our acrylic desk plaque is both regal and timeless. Simply put, it feels at home anywhere.
Just as it feels at home in any decor setting, this desk nameplate is a great gift for anybody in any profession. It doesn't matter: shop manager, medical doctor, attorney, police chief, community organizer, sales professional or even the President of the United States. This desk block is perfect for everybody!
From celebrating a birthday, just wanting to say "Thank You" or the last day of school, this elegant and timeless acrylic desk bar is the perfect gift to show teacher appreciation! Have a new graduate taking their first professional job? This personalized gift would be an absolute win. Did your friend just receive her long deserved promotion? Toss some wind in her sails with this amazing nameplate. 
You don't have to take our word for it. You can check out the reviews for this item across Amazon, Etsy, eBay etc. The difference is all customers who buy from Griffco Supply directly get the lowest price, first priority on order processing, first items shipped out the door, first to know about new products and specials and direct customer support if you need it. We aren't messing around. We know you have a zillion choices where you will buy your new personalized desk nameplate and we take it very seriously. If you allow us to earn your business, you will be so glad you did (so will we). Not exactly what you're after? You can click the following link to shop our entire collection of desk name plates.
All personalized desk name plates are designed, engraved and shipped from right here in Northeast Ohio, USA.