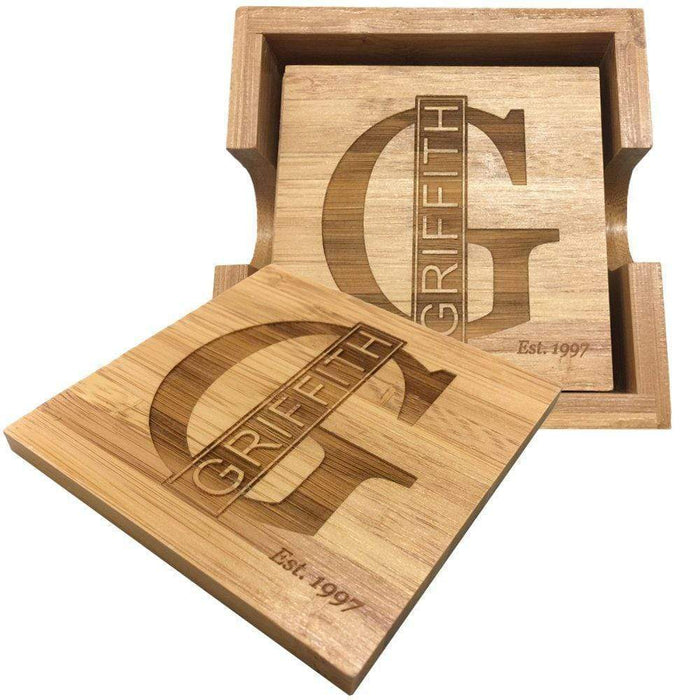 Initial and Name Bamboo Personalized Coaster - Set of 4.
Original price
$27.99
-
Original price
$27.99
Personalized Coaster Set - 4 coasters with holder
Here's a few benefits of these personalized coasters we know you will love:
Made of Certified Renewable Bamboo with FREE Customization.

Put last name (shown in photo) or two first names in name rectangle.

Orientation of rectangle may vary to produce the best finished product. For example, we will not run the rectangle vertically for a capital letter I.

Set of 4 coasters. Each measure approx. 4" x 4".

Beautiful holder included.

Designed, engraved and shipped by Griffco Supply in Northeast Ohio.
Here are some further details for those of you that like to read:
These personalized bamboo coasters are an absolute smash hit with our customers. On other sales channels they have received rave reviews over the years.
When you order directly from Griffco Supply, you not only save money but your order gets priority placement above all other sales channels. These bamboo personalized coasters measure about 4 inches square and have felt on the bottom of them so they do not scratch your surface. All four coasters in the set stack nice and neat inside the included matching holder.
Bamboo is a fast growing, sustainable resource that is as useful as it is eco-friendly. Love this coaster set but you want to see some other options? You can check out all our personalized coasters here. We know you are going to find something you love. 
Why should you buy your new personalized gift from Griffco Supply?
Right now you are taking a look at some bamboo coasters. It seems like a small thing. For us as a business, however, it is anything but small. We understand a couple things that are extremely important and they drive us forward each and every day.
1. Our team at Griffco Supply realizes that if it weren't for you making this purchase today we simply would not exist. It is the word of mouth of our amazing customers and their repeated purchases that keep us in business and provide for us. That is a huge deal for us!
2. We are missional. Our team collectively understands we are not just selling personalized coasters. We know we are taking a small part in an event in your life. These coasters may be gifted to a family member that just bought a new house. Or they may be personalized for the waiting area in your new office space - the "what" doesn't matter to us nearly as much as the "why". The "why" to us is that when that smile happens on the face of your loved ones, or you situate your new coaster set on your conference table just right, there's that smile. That love for your family or that pride that this business is something you're really doing. Somewhere, deep in the recesses of the backstage, we got to take part in that event with you. We marked the items. We engraved them. And when we shipped this new coaster set to you, our hard work and best wishes for your life event also shipped in the package.
We are thankful. We don't take you for granted. We appreciate you.