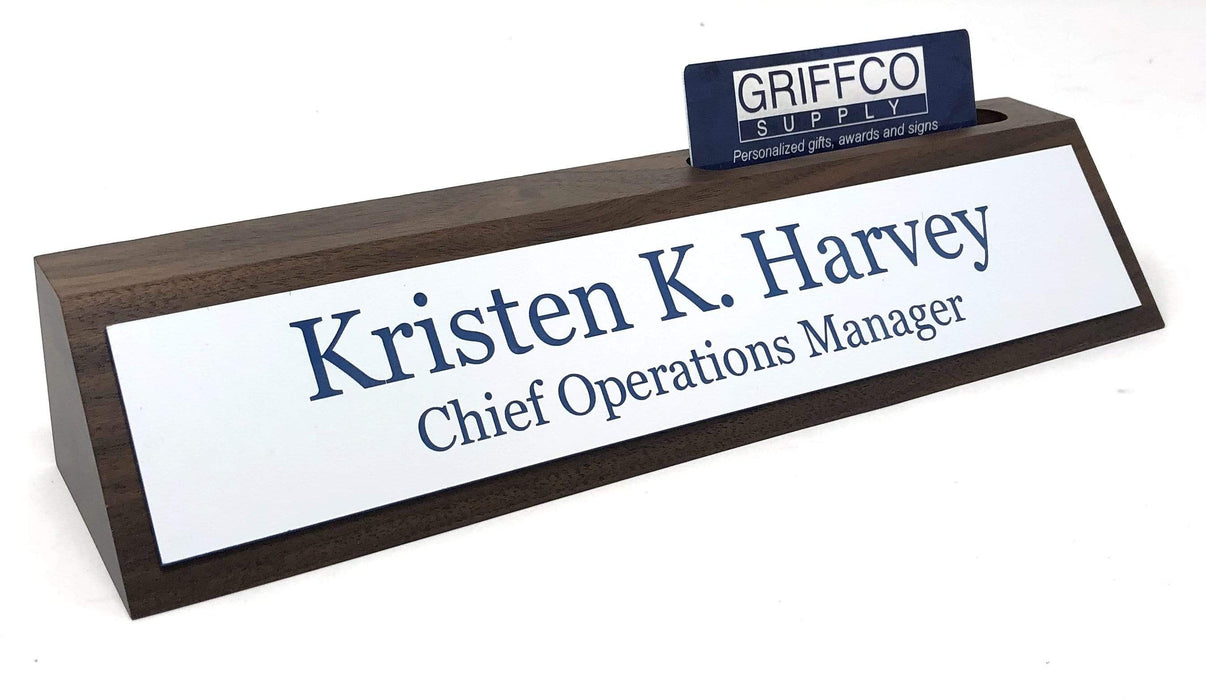 10" Walnut with Offset Card Holder - 16 Color Options
SKU
GR-DS20-Plstc-WhiteBlue
Original price
$42.99
-
Original price
$42.99
Walnut 10" Personalized Desk Name Plate with Business Card Holder - available in 16 Color Options
Product highlights at a glance:
10" Walnut Personalized Desk Nameplate with Business Card holder: Elegant, timeless and professional solid walnut construction.
Completely custom engraved nameplate: 10" block width with personalized custom front nameplate available in 16 color options.
Always free engraving: Two lines engraved at no charge.
Convenient desk plaque: Beautifully and elegantly displays your business cards.
Free shipping available and free engraving from Griffco Supply.
Custom Desk Nameplates from a Family Company: Proudly designed, engraved and shipped from Ohio, USA. We are a small family owned company.
About this desk name plate:
This personalized desk name plate is a new spin on one of our classics. The result is a gorgeous product that blends timeless beauty with a modern touch of color. As unique as your own personality, this walnut desk name plate has been an instant hit with our customers.
We begin with one of our longtime favorites, our 10" walnut name block with business card holder. This desk plaque features a dark walnut finish and a beautiful wood grain that runs throughout the wood block.
The featured business card hold is offset to the far right side (if you are looking at the front of the item) of the desk plaque. We like this setup because it keeps the focus on the front of the name plate while the business cards seem to fade into the background. You know the business cards are there in the holder, but they are not presented in an abrasive way.
Next, we affix your customized name plate to the front of the desk block. The face of the block itself measures approximately 2" X 8" and we leave a great looking margin of wood around the edge of the adhered name plate. Our name plates are cut and engraved in house (right here in Northeast Ohio) and are made from an impact resistant and UV tolerant 2-ply acrylic. We presently offer 15+ modern colors to choose from and have even further color choices for large volume orders. Just check out these options - we have everything from the very regal looking white with blue text to the boldness of yellow or hot pink. What's crazy is that all the colors look wonderfully together.
Using precision laser engraving machines you will get a complete custom desk name plate with your name and title or text of choice. We will engrave up to two lines of text for you for absolutely free and can even place a logo on the item for you as well (logo needs to follow detailed directions in order to engrave).
At Griffco Supply we realize you have many choices when it comes to purchasing your new personalized desk name plates. If you want a unique alternative, check out our popular acrylic name plate. You can click the following link to shop our entire collection of desk name plates. We would appreciate your business as well as your order today. What you'll find is we are happy to assist you before, during and after the sale has taken place. We know we don't exist without the wonderful customers that have purchased from us as well as told their friends and loved ones about us. Thank you so very much.